Plan Nodes and Operators¶
Velox query plan is a tree of PlanNode's. Each PlanNode has zero or more child PlanNode's. To execute a query plan, Velox converts it into a set of pipelines. Each pipeline is made of a linear sequence of operators that corresponds to a linear sub-tree of the plan. The plan tree is broken down into a set of linear sub-trees by disconnecting all but one child node from each node that has two or more children.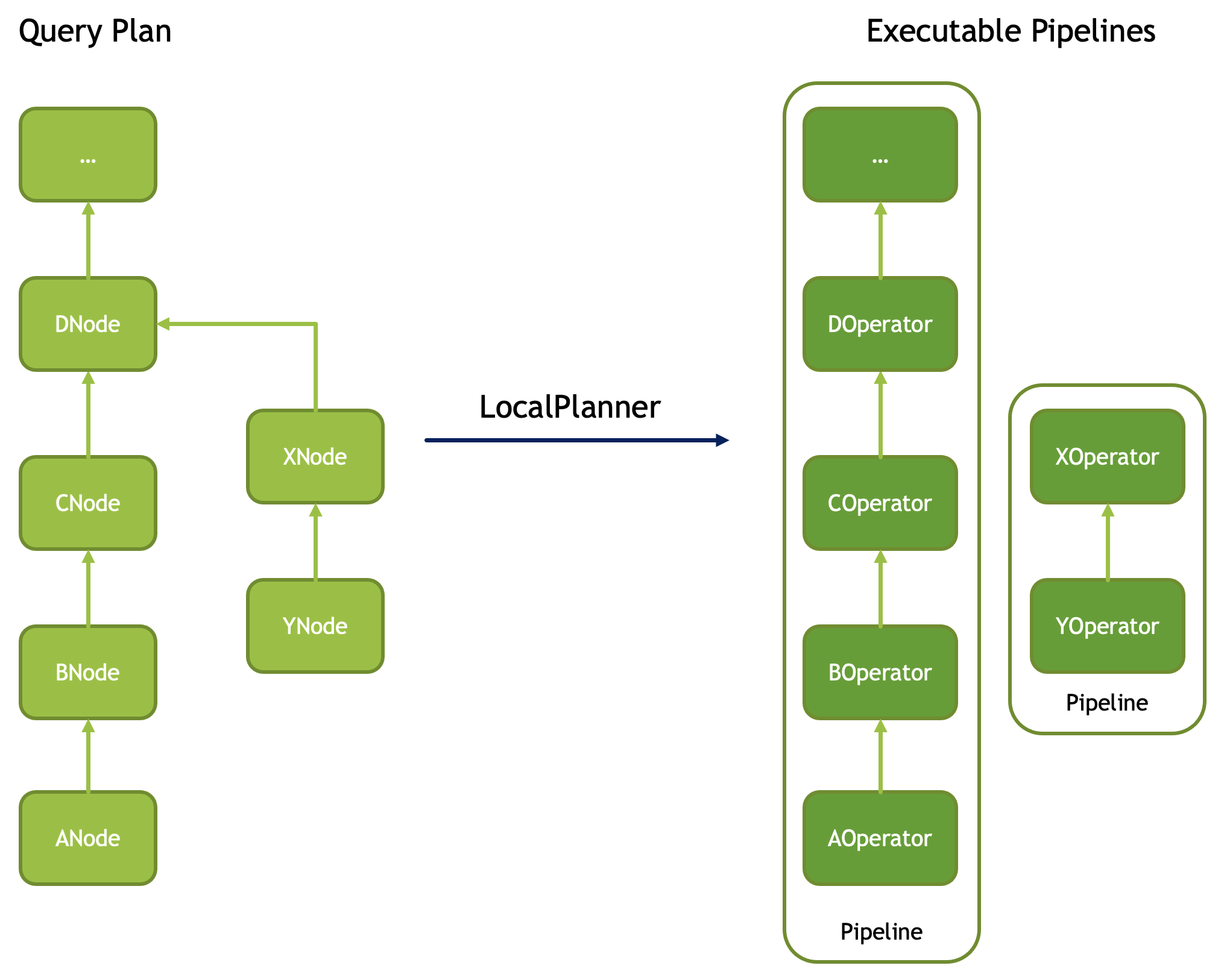 The conversion of plan nodes to operators is mostly one-to-one. Some exceptions are:
Filter node followed by Project node is converted into a single operator FilterProject

Nodes with two or more child nodes are converted to multiple operators, e.g. HashJoin node is converted to a pair of operators: HashProbe and HashBuild.
Operators corresponding to leaf nodes are called source operators. Only a subset of plan nodes can be located at the leaves of the plan tree. These are:
TableScanNode

ValuesNode

ExchangeNode

MergeExchangeNode

ArrowStreamNode
Here is a list of supported plan nodes and corresponding operators.
| Plan Node | Operator(s) | Leaf Node / Source Operator |
| --- | --- | --- |
| TableScanNode | TableScan | Y |
| ArrowStreamNode | ArrowStream | Y |
| FilterNode | FilterProject | |
| ProjectNode | FilterProject | |
| AggregationNode | HashAggregation or StreamingAggregation | |
| GroupIdNode | GroupId | |
| HashJoinNode | HashProbe and HashBuild | |
| MergeJoinNode | MergeJoin | |
| NestedLoopJoinNode | NestedLoopJoinProbe and NestedLoopJoinBuild | |
| OrderByNode | OrderBy | |
| TopNNode | TopN | |
| LimitNode | Limit | |
| UnnestNode | Unnest | |
| TableWriteNode | TableWrite | |
| PartitionedOutputNode | PartitionedOutput | |
| ExchangeNode | Exchange | Y |
| MergeExchangeNode | MergeExchange | Y |
| ValuesNode | Values | Y |
| LocalMergeNode | LocalMerge | |
| LocalPartitionNode | LocalPartition and LocalExchange | |
| EnforceSingleRowNode | EnforceSingleRow | |
| AssignUniqueIdNode | AssignUniqueId | |
| WindowNode | Window | |
Examples¶
Join¶
A query plan with a join includes a HashJoinNode. Such a plan is translated into two pipelines: build and probe. Build pipeline is processing input from the build side of the join and uses HashBuild operator to build a hash table. Probe pipeline is processing input from the probe side of the join, probes the hash table and produces rows that match join criteria. Build pipeline provides the hash table to the probe pipeline via a special mechanism called JoinBridge. JoinBridge is like a future, where HashBuild operator completes the future with a HashTable as a result and HashProbe operator receives the HashTable when future completes.
Each pipeline can run with different levels of parallelism. In the example below, the probe pipeline runs on 2 threads, while the build pipeline runs on 3 threads. When the build pipeline runs multi-threaded, each pipeline processes a portion of the build-side input. The last pipeline to finish processing is responsible for combining the hash tables from the other pipelines and publishing the final table to the JoinBridge. When the probe pipeline for the right outer join runs multi-threaded, the last pipeline to finish processing is responsible for emitting rows from the build side that didn't match the join condition.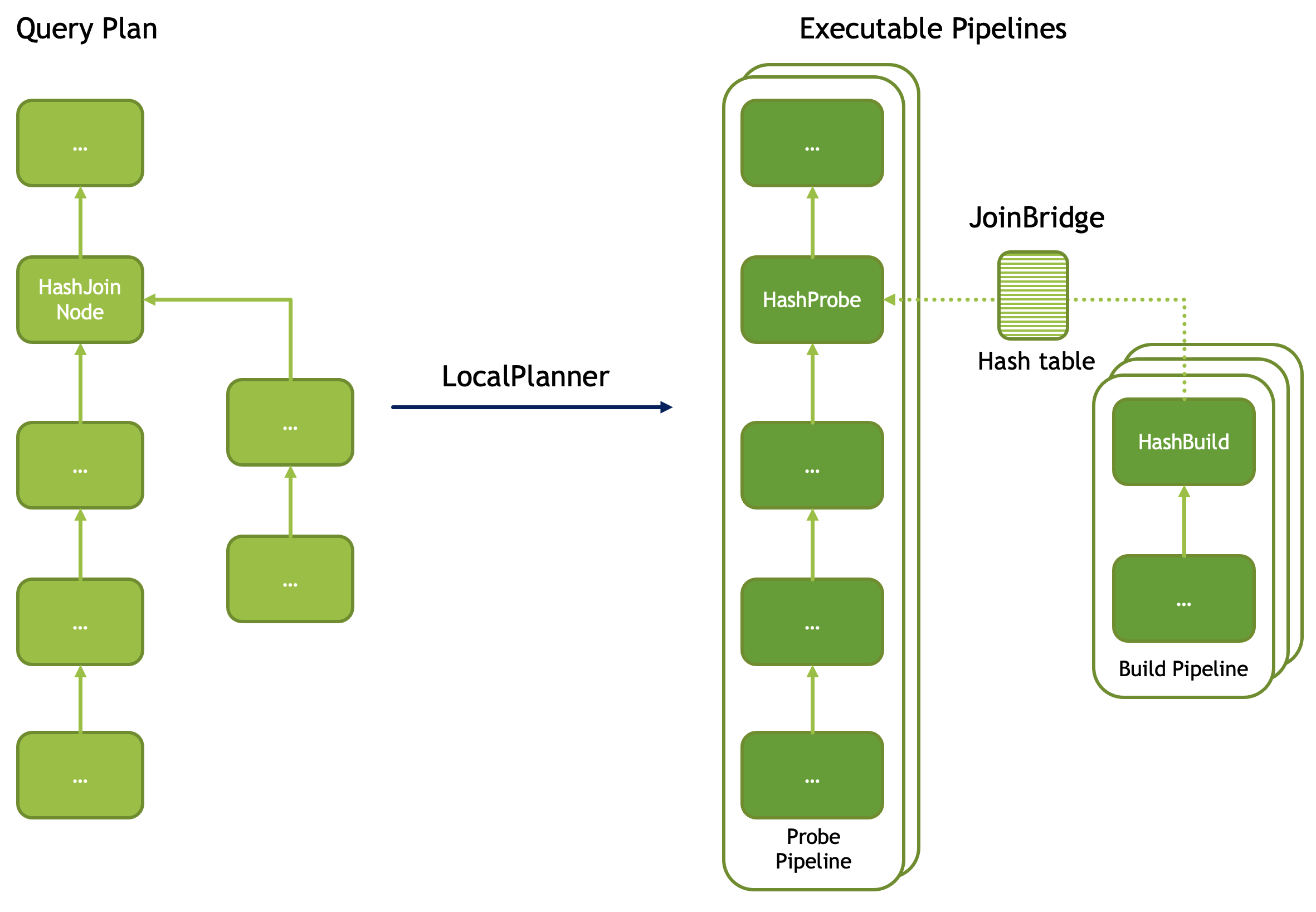 Local Exchange¶
A local exchange operation has multiple uses. It is used to change the parallelism of the data processing from multi-threaded to single-threaded or vice versa. For example, local exchange can be used in a sort operation where partial sort runs multi-threaded and then results are merged on a single thread. Local exchange operation is also used to combine results of multiple pipelines. For example to combine multiple inputs of the UNION or UNION ALL.
Here are some examples.
N-to-1 local exchange that could be used for combining partially sorted results for final merge sort.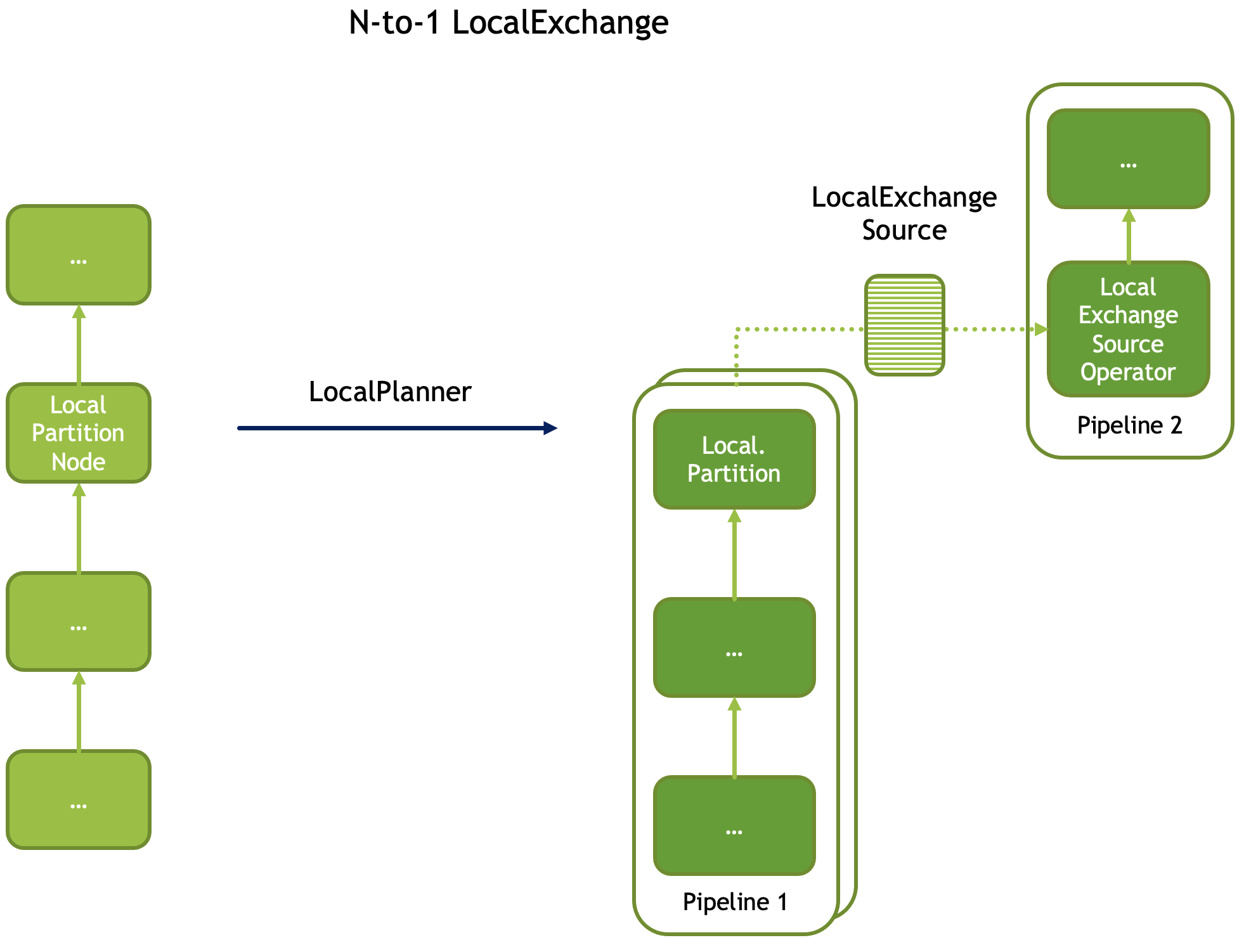 1-to-N local exchange to increase parallelism after an operation that must run single-threaded.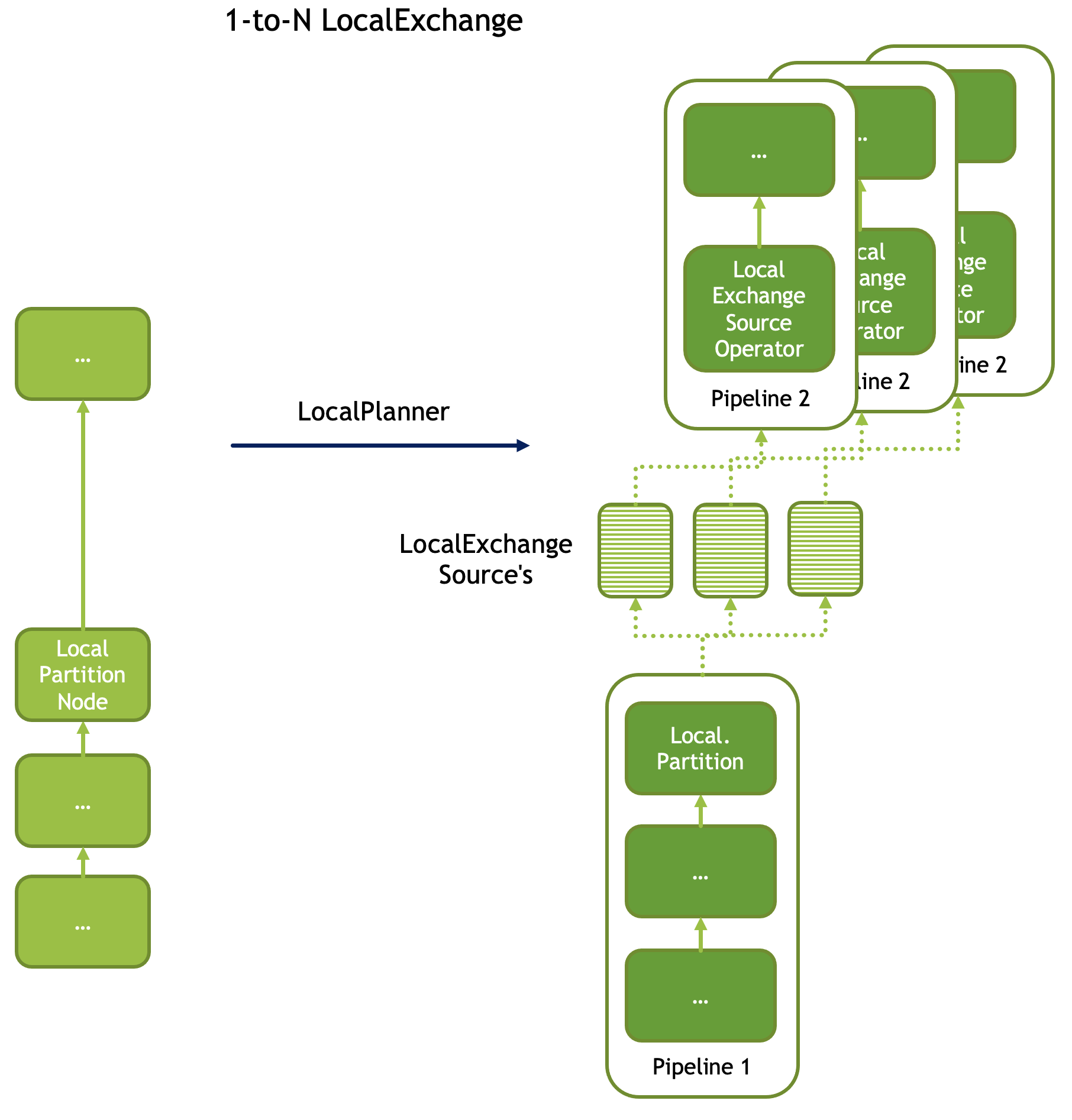 Local exchange used to combine data from multiple pipelines, e.g. for UNION ALL.